Batman: Arkham Origins Reveals New Villain
This week Warner Bros. Games Montreal revealed a new villain for their highly anticipated game, Batman: Arkham Origins. Her name is Copperhead, one of the eight assassins chasing after the bounty on Batman's head. This one is more or less a new character in the Batman universe in the sense that Copperhead has always been a man until now. The original Copperhead was an extreme contortionist who wore a snake suit. The costume's fangs secreted a neurotoxin extracted from copperhead snakes. He also looked a little something like this: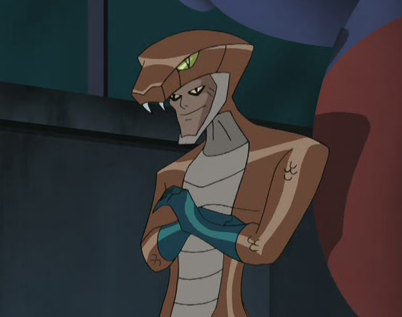 The new Copperhead is a woman and, thankfully, does not wear that ridiculous outfit. This one seems to be a hybrid of the original comic book character and the Copperhead from Batman Beyond, who was a human spliced with snake DNA. Her movements take on a snake-like characteristic, and there are some noticeable physical traits of a snake as well: slit pupil, long tongue (shiver). She also utilizes metallic claws which probably are tipped with poison. Watch her debut trailer below and see this lady take on the Bat.